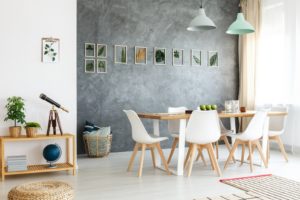 When homeowners hear the words "home renovation", many of them immediately think "expensive." The fact is that a reno doesn't really have to cost that much money. You can easily upgrade your space with a reno on a budget. If you've been considering embarking on one on your own, you might want to reconsider that notion.
Designer Doesn't Have to Mean Expensive
You certainly wouldn't re-do your plumbing without the benefit of a plumber's expertise. You also wouldn't re-wire your home without an electrician onboard to handle the job. Hiring a talented designer shouldn't be any different. If hearing the word "designer" makes you think "expensive", too, and sends you into a tailspin, it really shouldn't.
Affordable Design
At IO Designs Interior Design in Miami, we want to show you that you can easily renovate your home on a budget and still have a designer handle all of it for you. There are numerous valid reasons for using a professional designer for your home renovation even though you may be on a tight budget, including:
As designers, we can buy materials at discounted rates. This really helps with offsetting our fees and making it much less expensive in the end for you to achieve that polished look that everybody expects when bringing a designer onboard.
When you tackle a reno project without the benefit of a designer's experience, it can turn out to be both financially and emotionally risky.
A designer can not only assist you in honing your vision for your home by showing you all of the latest materials and trends, but he or she can also keep your project on-budget and on-schedule.
If you were to decide on turning your reno into a DIY project and it went badly, you could be stuck with living with that glaring mistake every single day until you could afford a professional to repair it for you. Why not make sure it's done right in the first place? We'll be more than happy to help you figure out how to fit what you want into your budget.
It Doesn't Have to be Expensive
As you can see, a home renovation or remodel really doesn't have to be an expensive undertaking. Whether you just want to update your home or remodel the entire house for getting it ready to sell, we can help you to plan and execute it within your budget. There are more ways than you think that you can fix up your home without spending a lot of money.
Professional designer changes can:
Increase your home's market value
Make your home look nicer for guests when they come to visit
Make your home more comfortable to live in
Allow you and your family to enjoy your home to its fullest extent
Contact Us Today
If you're on a budget but want that professional designer look for your home, contact us at IO Designs Interior Design in Miami (786) 623-8218. Or, you can simply fill out our convenient form. A member of our design team will get back to you with more info or an appointment.