If you've been doing some serious thinking about renovating your home, you've probably done some research and found out what other homeowners have. That is the fact that a kitchen reno gives you the most bang for your buck. Whether you're planning on selling your home or just want it upgraded for your own comfort and enjoyment, a sparkling new kitchen with new cabinets and stainless steel appliances will work beautifully for both.
Cost Conscious?
The first question that many homeowners ask is "How much will it cost me?" Complete kitchen renos generally run from around $15,000 to $35,000 with an average cost of approximately $22,000. A smaller undertaking could run much lower, like around $5,000, while some more extensive projects with walls being taken out, complete reconfiguration and expensive finishes could be closer to $50,000. Remember, however, at any price, your new kitchen reno will either bring you years of culinary enjoyment and family gatherings or a considerably higher price when you sell (or both).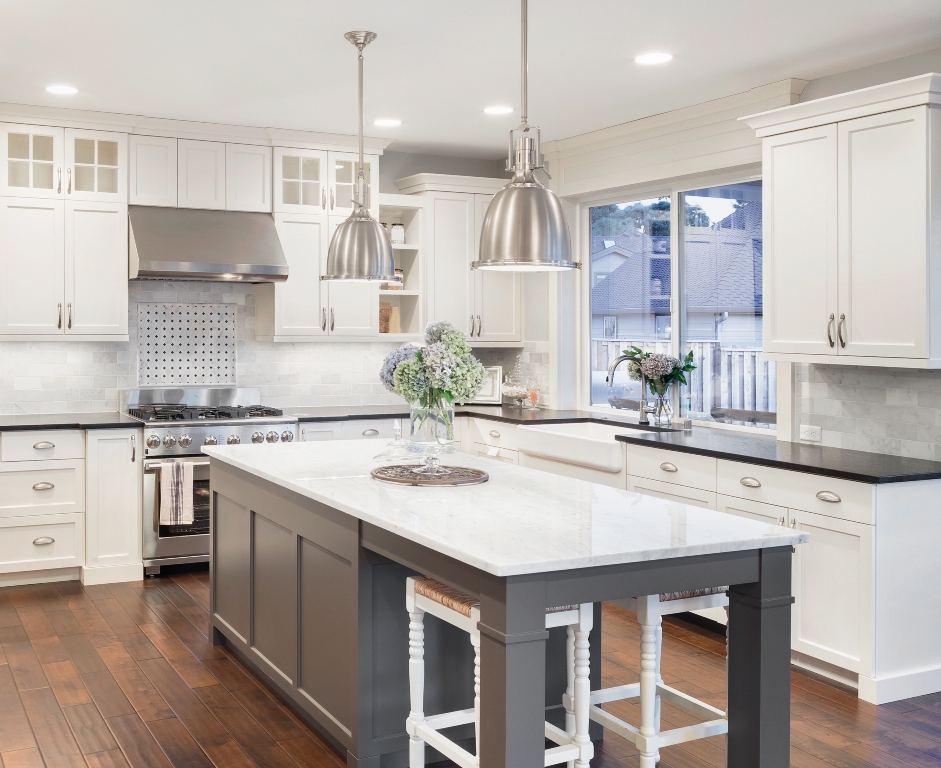 Classic Traditional or Trendy Contemporary?
Do you want a classic design? Then, shaker kitchen cabinets with granite countertops could be the way to go for your kitchen reno. The hardware on your cabinets can make a design statement as well. Whether you're going traditional or contemporary kitchen design, they are available in plenty of styles and finishes. This year, gold and brass are back as trending metals for pulls and handles on your self-closing cabinets and drawers. You could also choose this year's new color, champagne, for your cabinet accessories.
Wood Hues
You could match your gleaming new wood floor with natural wood cabinets in the same wood hue for a truly traditional kitchen design. On the other hand, you might prefer contrasting wood cabinets and a wood floor for a dramatic effect. The choice is yours and fortunately there are a number of great options to make it real your kitchen design ideas out there and, from oak to cherry, they're all amazing.
Open Shelving is Trending
Open shelving can be an excellent way of making your kitchen look airier and your ceiling higher. It's one of this year's most popular styles and you can go with just a little or a lot, depending on your kitchen's layout and your style. Open shelving works beautifully with numerous decor styles, including contemporary, farmhouse, traditional, and transitional. That rustic vibe of metal and wood and that open airy feeling will fit right in. It's also the perfect place for displaying some family heirlooms or just pieces that you love and want to look at every day.
Go For the Bold
Choosing a bold backsplash to go with your new cabinets and stainless steel appliances can make a kitchen statement like no other. A herringbone-patterned subway tile can make any kitchen look classically designed. That's not the only option, of course. You can choose from stacked stone, 3D finished bronze tile, round metallic penny tile, mosaic tile, reclaimed wood, textured tile, stainless steel, or even a ceramic tile that has been covered in a thin coat of copper for your designed kitchen.
Alright, that's a lot to choose from but we'll be there every step of the way to help you choose everything from floor to ceiling and that includes your lighting, which is one other facet of your kitchen that's very important. From pendant lights to can lights, your kitchen will be perfectly lit from top to bottom when we're finished with your new design.
A World of Ideas
You may have a ton of decorating ideas swirling around in your head. You've probably checked out every magazine, book, and website related to kitchen renovations. It can all be quite overwhelming with so much to choose from, including: 
~ Do you want warm wood or white cabinets and granite countertops? 
~ Do you want butcher block, quartz, poured concrete, or marble countertops instead of granite? 
~ Does your style lean more toward dark or light wood cabinets? 
~ Do you love the new trend of painting your kitchen island one color and your outer perimeter cabinets another? If so, blues and greens are this year's go-to colors.
~ Do you want a new wood floor or tile? 
~ Do you want to run hardwood throughout the adjoining rooms, like your family room, to make the area look bigger? 
Endless Choices
It's true; the choices are endless, but they don't have to be overwhelming. All you need to do is consult a professional. At IO Designs, we love new kitchens as much as you do and we have the experience and the expertise to make your kitchen a true showstopper. We know what's trending and how to mix today's style with your own personal vision of what want your newly renovated kitchen to be.
Your Vision
Some South Florida homeowners hesitate to call in a professional designer because they feel it will take the design choice completely out of their hands. That's not true though. Every step of the way, we consult with you and, of course, we respect your opinions and desires. If you're one of those people who feels that too many friends, neighbors, an/or family have a particular style of cabinets with granite countertops and want something different, we hear you. We'll help you to make the perfect choice for your personal style, not ours or anybody else's. If you want mainstream choices or some that are more bold and unusual, it's your home and your choice.
Take That First Step Today
Now that you're ready to take that first step toward starting your kitchen remodel, large or small, contact us at Ingrid Olarte Interior Design in Miami (786) 623-8218.