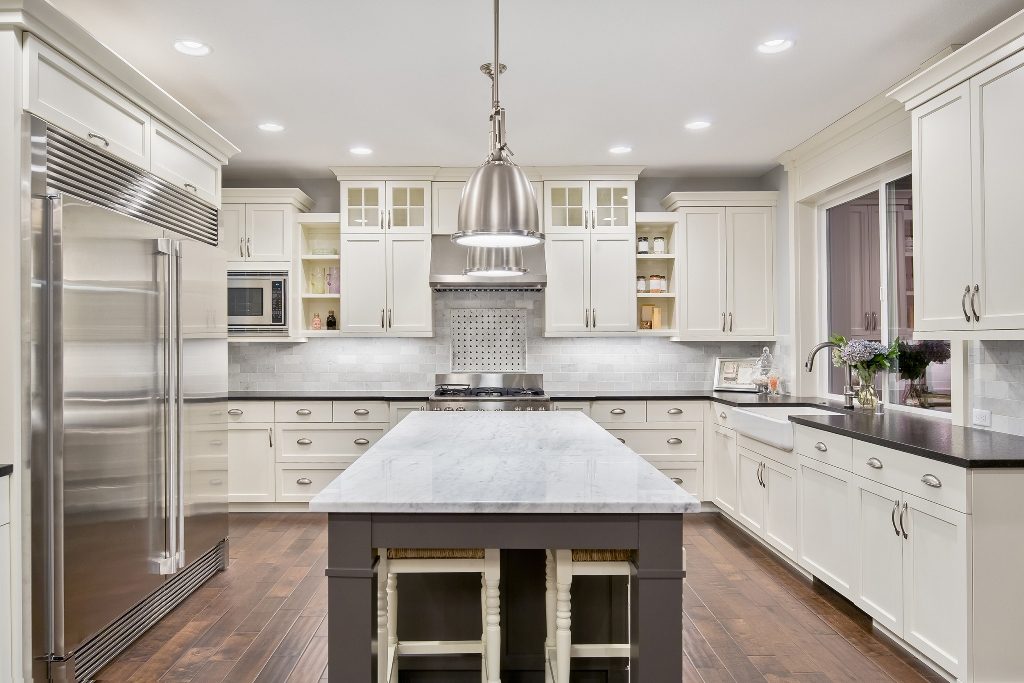 Any real estate professional that you ask will surely advise you about what they consider to be the top-selling point of current homes everywhere these days. It is an attractive updated kitchen. The fact is that, whether you plan to stay in your Miami home forever or sell it, a kitchen remodel could be just the thing for enhancing its overall value. No need to mention making it more functional and comfortable for you and your family.
From Outdated to Dream Kitchen!
Here at IO Designs, we are extremely proud to tell you that we can turn your outdated kitchen into a dream kitchen. Besides, we do it in a short time and with absolute accuracy. We have a number of the items needed for your Miami kitchen remodeling project ready in-stock. If we don't, then you can always count on our design team to directly import whatever is needed from major factories worldwide. Over our years with the experience of home improvement, we have effectively built tremendous business relationships with many of the top remodeling product suppliers from all over the world. We successfully leverage our buying power to help us deliver amazing professional kitchen remodel results at affordable prices.
Cabinets to Countertops
From beautiful kitchen cabinets to tile stone countertops, we have absolutely everything covered for your kitchen remodel. Start to finish! You can always count on the quality of our work as well as our complete dedication to turn your outdated kitchen into exactly what you have been wanting it to be. Whether you want to model after our online gallery or start from scratch, we have you covered. We will provide a broad selection of various samples, take a few important measurements, and then develop a beautiful kitchen layout with creative remodeling ideas. We assure you that your kitchen layout will be designed to your specifications to help you envision exactly what you will be getting when you put your Miami kitchen remodel in our hands. 
Upgrading Your Kitchen Design
When you think about creating a design for your perfect kitchen, we want you to think of us as your very first choice to get the job done. We are experts in kitchen designs that are lavish or streamlined, as well as a wide range of unparalleled selections and superior quality that you can always count on. We should be your one-stop kitchen remodel center. You can count on us to take the very best care of every single one of your Miami kitchen remodeling requirements.
Bring Your Kitchen Dreams to Life With Creative Kitchen Remodel Ideas
Unlike many kitchen designers and architects, we are able to have your kitchen remodel done both quickly and accurately. It is our main goal to guide you through the steps of a kitchen remodel. We concentrate on bringing your dreams of a beautiful kitchen to life. We are your expert Miami kitchen remodelers who make dreams come true with home remodeling ideas. When Miami homeowners want to make sure that they are getting a high-quality kitchen remodel quickly and at a competitive price, they know that they can rely on us at IO Designs.
Upgrading Your Kitchen in Miami
When you start to think about redesigning and remodeling your kitchen, we want you to think of IO Designs. That's because we offer an unmatched selection of everything from modern kitchen cabinets to tile stone countertops and everything in-between.
Not only will you love our prices, but also our creative designs and exquisite quality. Whether you are in the market for gleaming wood kitchen cabinets, new paint, solid surface countertops, appliances, or all of the above, we can get it for you. We are confident that you will love the contemporary kitchen design that we come up with for your Miami home. 
Why Choose IO Designs?
That's an excellent question and here are a few valid reasons why: 
We offer reliable fast design and remodeling services

We have affordable prices

We have experience in creating beautiful kitchens

We are your premier designers for kitchen remodeling

We are available to serve Miami and the surrounding areas.

We use only the highest quality materials

Customer satisfaction is our main goal.

We are your all-in-one warehouse for appliances, cabinets, countertops, paint, and so much more.

Our services and important kitchen accouterments include:
Backsplashes

Cooktops

Flooring

Granite Countertops

Islands

Kitchen Sinks

Lighting

Limestone Countertops

Marble Countertops

Onyx Countertops

Quartz Countertops

Soapstone Countertops

Travertine Countertops

Tile stone Countertops

Wood Countertops
Kitchen Design Ideas
To help you with getting started on choosing your new kitchen remodel design, here are a few ideas:
(1) Paint
A kitchen painted in shades that can perk you up, like lemon yellow or turquoise. These kind of kitchens were quite popular in mid-century modern homes. You could give a modern nod to that particular mood-boosting approach by just painting one kitchen accent wall in your favorite unexpected hue.
(2) Gong With the Grain
Interior designers have often utilized wood cabinetry that was streamlined for adding warmth and texture to kitchens. This is a design element that is still working wonderfully in today's contemporary kitchen. Especially since the combination of lighter wood with some bright accents plus lots of natural light can really have an impact.
(3) The Right Lighting
Task lighting is very important in a kitchen. Try using pendant lights, which are common in many kitchens. Suspending a few of them over your countertops can be an excellent way for shining a spotlight on your perfect latest culinary creation.
(4) Out of the Closet
The trendy minimalist Euro-style kitchens of today may be super-sleek and chic, however, there really is something to be said for that no-nonsense style of old-school chefs who liked keeping their dishware on display. Those old-style cup hooks and plate racks are great for making it easy for grabbing whatever you need. Also giving your kitchen that welcoming casual vibe.
Get Started Today
Contact us at Ingrid Olarte Interior Design in Miami and get started with designing the kitchen of your dreams!