Is your Miami beach home in need of a reno or redesign? Many people get so used to their décor that they don't seem to notice that it needs updating. Sometimes this involves a floor-to-ceiling reno but, on the other hand, perhaps just a few new pieces would do the trick.
Can't decide which to go with? No problem. At IO Designs, we're here to help you with that. Interior design is our specialty and changing people's lives by making their surroundings more compatible with modern day convenience mixed with your personal style. 
Professional Interior Design in Miami
One of the optimum ways for making your home look more sophisticated, updated, and comfortable for you, your family, and your guests is designing your home in a professional way. With the years of experience, as IO Designs we provide you a space plan. Also, we are sure that the design process going well. The reason why we provide a complete service for you is that we want to design your dream home.
We are an interior design firm that differentiates from others by considering the way of your lifestyle. We accept the design projects as refreshing lives. On the other hand, if you're a homeowner who's considering putting your home on the market, updating your decor could quite possibly be worth its weight in gold. That's because the better it shows, the better your chances are of selling it fast and at a great price for you. Buyers can spot a beautiful professionally done interior design the minute they walk through the front door. To that end, here are a few tips on Interior Design Miami Beach Style:
Accessorizing
You'd never go to dinner and wear your best new dress without proper accessories, would you? Well, don't make the mistake of expecting your home to put on its best face without accessories either. Colorful throw pillows can transform the entire look of any room. So, can some well-placed area rugs and new artwork on the walls. You should be accessorizing to your heart's content because it happens to be the most cost-effective way to change the look of your room while also getting maximum impact.
Let There Be Light
Changing lighting in any room from the kitchen to bath and everything in-between can have a major impact as well. If you've been dying to get new table lamps, can lights, or amazing pendants, now would be the perfect time to choose some for updating any room. At IO Designs, we know lighting inside and out and can help you light up your Miami based life with the best in modern-day lighting fixtures. 
Furniture Fantasies
You may have been fantasizing about all-new furniture for your living room or some other room in your home. You don't even need to replace all of it (unless you want to) but each and every new piece of furniture adds something special to space. Let us help you make that all-important decision about furniture and accessories that will work best for your space and your personality. You can be sure that there will be harmony between your style and the South Beach atmosphere in your home.
Your style is uniquely yours and we want to help you bring it out and show it to the world. Well, at least to your family and friends anyway. When they come to visit your South Florida home, we assure you that they will be impressed by the way your style.
Colors Galore!
New paint can go a long way in updating any space. Choose a neutral or a trending color that strikes your fancy. Need help deciding on a hue? No problem. When you collaborate with us, we'll offer you every color of the rainbow and help you to choose the one that works best for you. Gray is one color that's trending and it goes with almost anything, so you might want to consider it for your walls. Do you want more energetic colors in your home? Let's talk to us for more options!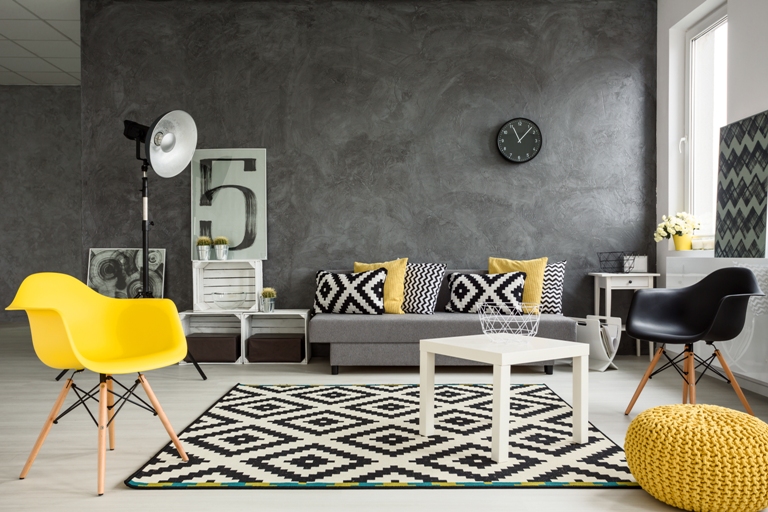 From Old Carpets to New Hardwood Floors
One of the best ways to update your home is to remove all of that old carpet. Old carpets were so the rage in years gone by but today, not so much. Pets and kids can dirty it up and downright destroy the look that it was originally intended to have. Hardwood floors are more popular with potential homebuyers, too, just in case you're planning on putting your Miami beach home on the market in the near future.
Raise the Roof
Another great architectural feature that might be a possibility for your home is a vaulted ceiling in your living room, dining room, family room, or kitchen. If your home has some room to go up or your budget can handle raising the roof, a vaulted ceiling can instantly make a room look bigger. It is also adding impressive architectural interest to your Miami Beach home.
Upgrade Your Kitchen and Bath
Two areas of your home that probably need updating and redesigning the most are your kitchen and bath. That's where the expertise of interior designers comes in. We can help you choose not only the colors but the consultancy to make the most of your space look great. Don't go it alone when you can have the help you need and at a price you can swallow. You have a professional hand of an interior designer with you.
We have done some amazing Miami Beach baths and kitchens in some beautiful homes and would love to show you some of our work. The results will amaze you and make you long for your very own design style home. Why not let us show you what we can do for your home to make it better reflect your personality and how much you care about every inch of your beautiful home.
Call Today
If you're itching to get started on your new design or renovation with an expert in interior designers Miami, contact us at Ingrid Olarte Interior Design in Miami (786) 623-8218. You'll be glad you did when your home becomes not only a showstopper but also more comfortable and convenient for you and your family to live in.