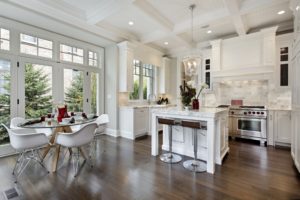 Nothing upgrades a home like a complete kitchen renovation. TV show these days, from "Property Brothers" to "Flip or Flop" and everything in-between, shows homeowners wanting beautiful new open-concept kitchens. They're not only more enjoyable for the chef in the family but for everybody else as well. We all know how much family and friends love to gather in the kitchen so it's really the most important room in your home. Right?
Increased Sale Potential
On top of that, when it comes time to sell, nothing can impress prospective buyers and bring about a quick sale like a gorgeous kitchen. Everybody these days is into gleaming hardwood or tile floors, new cabinetry with lots of space and soft-close drawers, solid-surface countertops, backsplashes with plenty of pizzazz, beautiful new designer sinks and faucets, shiny new appliances, and of course, some fabulous lighting!
Getting Started 
Getting started on your own "great kitchen" means starting with a really good plan. Let's start with a kitchen remodeling project that has design options through your style. You want one that will allow all of the cooking and prep work, as well as the conversation, to flow easily. To that end, here are five steps for creating your own picture-perfect kitchen:
Consulting a Professional
Skilled designers are a must when remodeling your kitchen. Here at IO Designs in Miami, we will show you layouts that can make the most of both your budget and your space with the emphasis on helping you to achieve your dream kitchen. We can create a remodeling plan that includes kitchen design fitting your characteristics, average cost and time. Before you invest a new design plan you should have no questions about kitchen remodel budget at all.
Keeping Your Work Area Compact
The path between your sink, stove, and refrigerator need to be direct and obstacle-for optimum efficiency.
Providing Sufficient Aisle Space
You should have at least 42-inches between opposite countertops, however, 48-inches works better where appliances (or people) may be competing for space. Any more could be considered overkill but is, of course, a matter of taste. If you have a small kitchen, your minimum aisle width should be 36-inches.
Planning Your Counter Space
You should allow at least 36-inches of counter space that is uninterrupted for meal prep. If you or someone in your family is an avid baker, however, 42-inches of uninterrupted counter space will serve you much better for things like rolling out the dough. According to The National Kitchen + Bath Association (NKBA), you'll want the following:
12 to 15-inches on each side of your fridge and wall oven,

24-inches on one side and 18-inches on the other side of your main sink,

At least 9-inches of backsplash behind your stove burners,

Plenty of extra counter space around a kitchen island cooktop for comfort.
Don't Forget the Aesthetics!
Including at least one major focal point in your new kitchen can make it more beautiful. For example, you could center your range, setting it off with an eye-catching hood and amazing cabinetry. On the other hand, you could set your design off with a massive island, blingy backsplash, or architecturally interesting ceiling.
Contact Us Today 
If you feel that you're ready to start on remodeling your kitchen, contact us at Ingrid Olarte Interior Design in Miami.