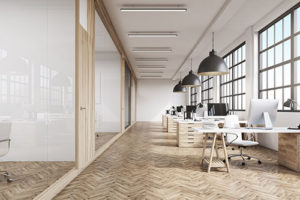 If you have an office in Miami that's starting to look a bit outdated and shabby, then an office remodel project could be just the thing for you and your business. A total designer facelift or even just a smaller remodeling job is a big step for any business owner, however, it could be worth its weight in gold. You want to put the best possible face on your business and impress your clientele. Obviously, that cannot be achieved with old time-worn decor with no decorating style.
Cost of Remodeling Office
The first thought that probably comes to mind is about what your office remodel job might cost. Before you decide whether you need an office renovation or not you should consider that this is an investment. The investment you do today will be back with opportunities for you.
A complete plan for total costs will help you to decide what kind of design you should expect for your office. It's a fact that the average cost for office remodeling in Miami can vary a great deal, depending on the following:
The type and overall square footage of the office space,

The number of walls involved,

The type of materials used,

The finishes that are chosen.
Make Your Work Environment Attractive Place For Workers
An office is not just a place where people gather and do something to make money. You and your co-workers spend half of the day together in that place. That is why you should take into consideration the working environment as well as creating space for your clients.
Let's think about what kind of needs we looking for while working. First of all, your working area should have open spaces. People should have the opportunity to take a walk in the office. Also, everybody needs natural light. A natural atmosphere with light and air conditioning helps your team to keep up their motivation. After these prior needs, you can design your office as you wish. You can choose colors, change the furniture or add some new items. You have the power of making your dreams come true with IO Designs.
Get the Most Bang for Your Buck
According to Design Cost Data (DCD) magazine, office build-outs and remodels can average price from under $50 per square foot to more than $300 per square foot for high-end finishes. DCD tracks the costs for all kinds of offices. Although it can be difficult to pinpoint the exact remodel cost, here at IO Interior Design, we can help you to put together a plan of action and a realistic budget for your office remodel in Miami. We want to make sure that you get the most bang for your buck and design that you and your staff, as well as your clientele, can appreciate for years to come.
Keeping Your Office Remodel Costs Under Control
We know that the very best method for staying on budget and keeping your costs in line is by hiring an interior design specialist. That's what we are at IO Design and our proven track record in our field speaks for itself. We have the expertise to plan and implement the perfect design for your office. We can also ensure that the costs stay in the line while still giving you top quality results.
Contact Us Today
If the time has come for remodeling your office in Miami, contact us at Ingrid Olarte Interior Design in Miami. All you have to do is fill out our simple form. You can count on our design professionals to get right back to you with all the necessary info for making an informed decision about going forward with your office remodel in Miami.